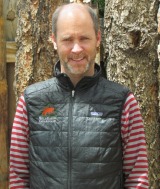 In case you haven't heard WildEarth Guardians is under attack for our pioneering work to reform our broken federal coal program and keep our publicly owned coal in the ground. What's surprising is that the attacks are coming from both the left and the right.
It all started a few weeks ago after we won a precedent-setting legal victory against the U.S. Department of the Interior. The Department brazenly violated one of our nation's cornerstone environmental laws—the National Environmental Policy Act—by failing to consider the climate implications of expanding the Colowyo coal mine, which is located on public land near the western Colorado town of Craig. Making things worse, the Interior Department never even notified the public of its decision, another major no-no under federal environmental law.
The federal judge who issued the ruling on May 8 gave the Interior Department 120 days to fix its flawed analysis. If not, the mine will be forced to shut down.
That's when things started heating up and a few residents of Craig began getting vocal. First it was a series of nasty comments on our Facebook page and a few caustic phone calls and e-mails. Then Fox News added fuel to the flame. And then the Craig dissidents started a campaign to boycott our business supporters.
Their first and highest target: New Belgium Brewing, which along with hundreds of other generous businesses we proudly listed on our website as a measure of our gratitude. In the face of its new critics in Craig, New Belgium made clear that it funded our watershed and river protection work, not the work of our Climate & Energy program. While most of Guardians' business supporters seem unmoved by the pressure, others deepened their resolve and a handful of now former business supporters simply wilted in the face of pressure.
And then two weeks ago Colorado Governor John Hickenlooper, a Democrat, got heated in an interview on Colorado Public Radio stunningly telling a radio host that our work to keep coal in the ground "has nothing to do with climate change."
Clearly we've touched a nerve.
Yet nobody seems willing to show any leadership. Even though the federal coal program is fueling the climate crisis and is wildly out of step with our nation's carbon reduction goals, President Obama and Interior Secretary Sally Jewell continue to defend the program. They're doing so even as the coal industry is broke and on the verge of a major financial collapse.
While our lawsuit is fomenting a very public crisis in the coalfields, the bigger crisis for coal is in the financial markets where one coal mining company after another is moving closer and closer to financial rock bottom.
For example Tri-State, the owners of the Colowyo mine, reported a $40 million loss on the mine in 2014, their fourth consecutive year in the red, and global coal giants Peabody and Arch coal saw their collective market capitalization shrink from over $2.5 billion in January to less than $800 million last month.
As coal mining companies exhibit more and more signs of financial stress, it's important to ask: who gets screwed when they go belly-up? I can promise you it won't be corporate executives at Peabody or Arch or even smaller companies like Tri-State. It's coal miners, the environment and the taxpayers that will get the shaft.
Just look at what Patriot Coal, a spin-off of Peabody Coal, did last month. They filed for bankruptcy for the second time in less than five years and the first thing they've tried to do is dump their pensions for retirees.
Unquestionably the next big financial responsibility these coal companies will try to shed is the more than $3 billion dollars they've committed to the federal government to clean up the toxic mess they've created at mine sites. If and when they try to default on those bonds I think you know who will be left to deal with the mess—the American taxpayer.
Given the increasingly grim reality of the federal coal program, what's needed from our leaders is not more climate denial and empty rhetoric in defense of a dying, financially stressed coal industry. Instead, we need an entirely new vision for the coal that you and I own that prioritizes the global climate imperative of keeping it in the ground.
And a necessary part of keeping it in the ground is creating effective economic safety nets that help communities, families and individuals transition to the new, more vibrant and sustainable economies of the future. As we move away from coal, we need a plan to ensure former coal-field workers have opportunities for meaningful work.
If politicians and policymakers won't lead us, then we will.
WildEarth Guardians' bold advocacy is driving real progress to confront the climate crisis and to hold our officials accountable to help coal communities deal with the realities of our changing times.
---
For the wild,
John Horning
Executive Director
WildEarth Guardians
jhorning@wildearthguardians.org